Dawn & Keith's pre-CV USA Adventure
"So……Keith and I set off from home to Gatwick by train on Friday 13th March. Yes, really!! Our flight left on time and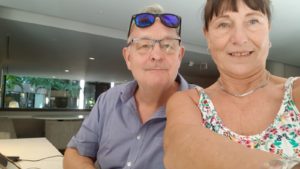 we spent 9 hours eating, drinking, watching films, reading magazines and deleting some of the 2100 photos on my phone! On arrival in Tampa Florida things were normal……being so close to the Mexican border Corona Virus could have been something from drinking too many bottles of the stuff as there was very little mention of it.
The next morning we watched the news and thought that maybe we should check our  Caribbean Cruise.  Thus began 4 hours of looking at soooo many websites  – e.g Foreign Office, Royal Caribbean, Fox News, Telegraph UK – all mostly conflicting info/advice; but as we had had no email/text or call from anyone we set off with our transfer driver to the port. The driver commented that the roads were a little quieter than usual…. but otherwise we all just generally chatted for 30 minutes.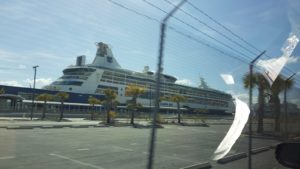 When we reached the port there was our beautiful boat, the Sheriff and his car, and us with our car!! Not a single thing else and that's when our adventure began…
We got our driver to take us back to the hotel where we sat at the bar and discussed our options. In the end we decided to stay in the USA for the week and come back to the UK on the already-booked-and-paid-for planned flight.  The driver had mentioned a beautiful place called Clearwater Beach so we got the iPad out and looked in to it. Wow! Fabulous! As were the prices £250 per night +!  More research and Clearwater itself had a hotel at a much more reasonable price, with a pool and there was a bus that ran to and from the Beach. Booked!!!
The hotel only did a small breakfast offer but the rooms had a fridge and a microwave so we were sorted. A short walk away we found a supermarket and a great bar restaurant with Guinness on draft too!! CVid was mentioned a little but only around New York, Washington etc… so life was good.  Clearwater Beach is white sand – 35 miles of it – and as beautiful as you can imagine.  A recommendation from a friend in the UK of a rooftop bar and we watched the sun go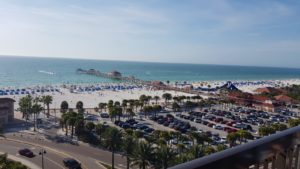 down from there ?. By St Patrick's day the children were off school but we found an Irish bar and had a great evening.  On Friday morning they announced all beaches were closing (except Clearwater!). Also bars and restaurants to run at 50% of capacity. CVid had arrived in Florida.  We tried to check in online to our flight the next day but it would not let us. A call to the travel company followed who came back apologising profusely as we had been bumped off the flight! Earliest they could try and get us back would be leaving Tuesday lunchtime via Miami (with a 4 hour wait) and back to Heathrow.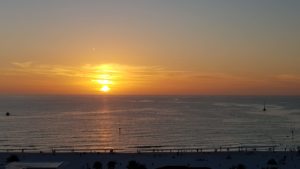 Our hotel was fine with us staying longer so a trip to the supermarket was next. They then announced all bars and restaurants to close but take away possible. So we decided to go to Clearwater beach again and at 2.12pm it was announced the beach would close at midnight and bars and restaurants with immediate effect. Soooooo we found a bar that was still open (!) and doing food (!) and then went back to the rooftop bar which was still open (!) and watched the sun go down again!
Sooo what to do to keep occupied with everything shut? Let's go and play golf! Lovely course near a small airfield (Phil would have loved it!) And a sit in the sun after with a €3 screwdriver served though a hatch.  A walk for food from our hotel took us past a massive mini golf place where you could feed the alligators.  Lots of people there. We ended up with a pizza from a garage and watched Chitty Chitty Bang Bang !
So 4 days late, our taxi driver (called Jesus!!!) took us to the airport. Somehow our flight went, although the 4 other flights that day were cancelled. Not the holiday we were expecting, but we ended up having a lovely time!