Keeping Busy, Keeping Active
The Horsham & Shipley Community Project (HSCP) has come alongside TD Shipley FC at the Shipley football site just south of Horsham on the A272, and has created a range of amazing facilities for the local community.
"With ever-decreasing local facilities we wanted to create a welcoming hub for the local community " says HSCP Chairman, Philip Gibbs. "Football is still the major driver of the site's activities, but around football we have built other activities for people of all ages to enjoy.  We want people to come along and join in the activities which appeal to them – or just come along for a cuppa and chat!"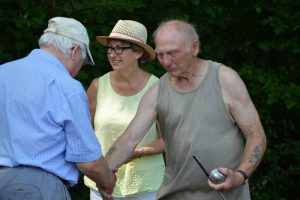 First established in 2015, the Horsham & Shipley Community Project was developed as a charitable organisation to provide a place where local people can participate in a number of activities to enjoy an active and healthy lifestyle to enhance and improve their general well-being.
Originally centred around football, The Horsham & Shipley Community Project team renovated the mid-size football pitch at the bottom of the site. This is now used for part of the Walking Football club, as well as other activities such as croquet on our BBQ evenings! A larger football pitch has been built at the top of the site which is used primarily for Walking Football. It is specifically sized for 9-a-side junior football and was ready for the 2020-21 season, helping to meet the growing shortage of facilities in Horsham District.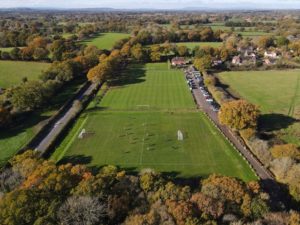 To complement the football facilities for the whole community, we have built a community Men's Shed, which opened in 2016 and have an active membership working with wood primarily to create all sorts of things – big and small!  We built four competition sized Petanque pistes for the Shipley Petanque Club and have very active and enthusiastic members joining those activities . We also run Health Walks regularly, exploring the local area which is beautiful, and we also have a very active Green Team which meets weekly to help renovate and maintain the whole site.
HSCP is a not-for-profit charity organisation run by volunteers, has been fully registered as a charity, so that all donations can be properly gift aided etc.
We work with outside organisations where possible…
Age UK have brought members to enjoy a game of petanque
The Shipley Scouts Troop have had fun playing petanque
We have good links with the local Alzheimers Association which has very active groups and sometimes takes part
Shipley Primary School which we have helped out with some projects
Highwood Mill, local retirement living, have enjoyed petanque matches
Roffey Football Club is now the home for the veteran football club which was part of HSCP, and we maintain very strong links
Charity football matches have raised money in particular for Pancreatic Cancer Research Fund and Chestnut Tree House Children's Hospice.
If you are interested in joining in any of the activities, or just finding out more about what we do and what is available for you, please get in touch. We would love to hear from you whatever your age, background or abilities.