Keeping Busy, Keeping Active
The Horsham & Shipley Community Project (HSCP) has come alongside TD Shipley FC at the Shipley football site just south of Horsham on the A272, and has created a range of amazing facilities for the local community.
"With ever-decreasing local facilities we wanted to create a welcoming hub for the local community " says HSCP Chairman, Philip Gibbs. "Football is still the major driver of the site's activities, but around football we have built other activities for people of all ages to enjoy.  We want people to come along and join in the activities which appeal to them – or just come along for a cuppa and chat!"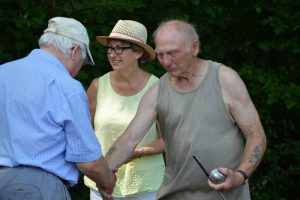 TD Shipley, which has been resident on the site for many decades, have a well established First XI and Reserves football squads, with club house facilities and changing rooms. First established in 2015, the Horsham & Shipley Community Project was developed as a charitable arm to help to build up other activities at the football site – thereby providing a place where local people can come along and participate in a number of activities to enjoy an active and healthy lifestyle to enhance and improve their general well-being.
The Horsham & Shipley Community Project team have helped rise money to renovate the existing full-size football pitch, which is also the home ground of the veterans team, Hills Farm Lane FC.  We have also created a new mid-size football pitch, with flood lights, which is being used exclusively for the Walking Football team. A third and larger junior football pitch is going to be ready for use in 2019 , helping to meet the growing shortage of facilities in the wider Horsham District.  In addition, to complement the football facilities for the whole community, we have built a community Men's Shed, and four competition sized Petanque pistes.
HSCP is a not-for-profit charity organisation run by volunteers, has been fully registered as a charity, so that all donations can be properly gift aided etc.
Apart from the regular activities at the site, we have organised
Age UK have brought members to enjoy a game of petanque
Charity football matches have raised money in particular for Pancreatic Cancer Research Fund and Chestnut Tree House Children's Hospice.
Junior Summer football training camps
We are working with Alzheimers Society UK to make sure we are ready for participants who may have dementia
Two local lads to use the grounds for a football match to raise money for their Duke of Edinburgh Gold Award trip to volunteer in Ghana
"What we've achieved already is extraordinary, but we would like the local Horsham and district community to get behind us and get involved, whether that is through joining one of our sessions, the offer of some general help or refreshment making, or perhaps some sponsorship. Everyone is welcome, and all ideas welcome." – Philip Gibbs