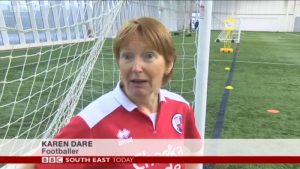 Watch one of our lady walking footballers, Karen with her team mates from Crawley Old Girls football team, who were invited to help the FA launch the 2018 FA People's Cup at St George's Park.  The team of ladies from the COGs were finalists in 2016 and had a great day with the FA and BBC to launch this year's national competition.
Watch the short video about their day on the BBC website  http://www.bbc.co.uk/news/av/uk-england-sussex-42683931/fa-people-s-cup-crawley-old-girls-help-launch-2018-competition-at-st-george-s-park  
Good luck ladies – we will be watching your progress!
Why not get a team together!  It is completely free to enter and welcomes male, female and disability players across 18 categories – ranging from U14s through to veterans (over-35s).  For more information on the competition go to http://www.thefa.com/competitions/the-fa-peoples-cup and for more information on COGS, visit http://www.crawley-cogs.co.uk/st-georges-park-the-fa-peoples-cup-2018-launch-12th-january-2018/
Anyone want to get a team together? Closing date February 18th…