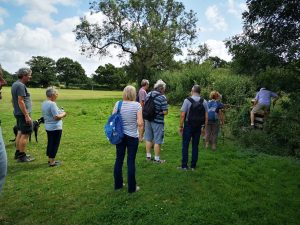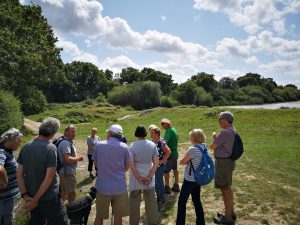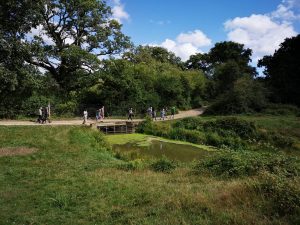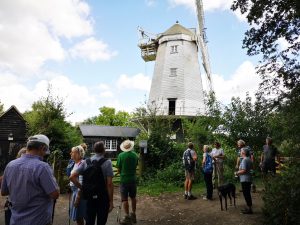 We had a perfect weather for our first Health Walk on Wednesday 7th August, researched and lead by our very own Richard. Perfect weather because it was warm but not too hot, and it held off raining until we had just arrived back to the clubhouse for a cuppa! Such an interesting route which took us from the TD Shipley site, across the main road and straight into the countryside.
After a couple of slightly wobbly styles (!) we found ourselves in Shipley village, past the church and into Knepp Castle Estate, one of the flagship "rewilding" projects of this country. We passed one of the Hammer Ponds, we saw fallow deer with their huge antlers, and birds of prey. We climbed the lookout built solidly around an ancient oak tree, and looked at old maps of gliders using the land during WW2. As a group of 14 (chattering as we walked) we probably made too much noise for the more sensitive animals which had plenty of time to disappear into the undergrowth as they heard us coming! But the countryside was lovely and we could see tracks of the Tamworth pigs and Exmoor ponies which we know are there.
Having walked out of the estate and navigated a bridge with a hurdle....we arrived back at Shipley windmill. Almost home Richard set us the task of spotting the underground bunker entrance in the bank of a country track. Who would have known it was there and that the area has such a diverse range of interesting features and history!
Everyone is welcome to join us on the next walk, which is on WEDNESDAY 21 AUGUST. This time, meet at The Selsey Arms pub in Coolham from 12.00 for a drink or arrive ready to start the walk at 13:30 promptly. Approx 4.5 miles to the Blue Idol and back around the Coolham WW2 Airfield. The weather forecast is looking perfect again...